This was our first lesson back after the winter holiday break. I was thrilled that after the snow had almost all melted, a nice storm came in last night, so that when we awoke, there was a nice blanket of white covering the ground. One of the children in class today said that it looks like a white paper. I love hearing a child's perspective! After a quick sharing of Peruvian music, I read a little poem "Stopping by Woods on a Snowy Evening" by Robert Frost, using a book with wonderfully child-friendly with illustrations by Susan Jeffers: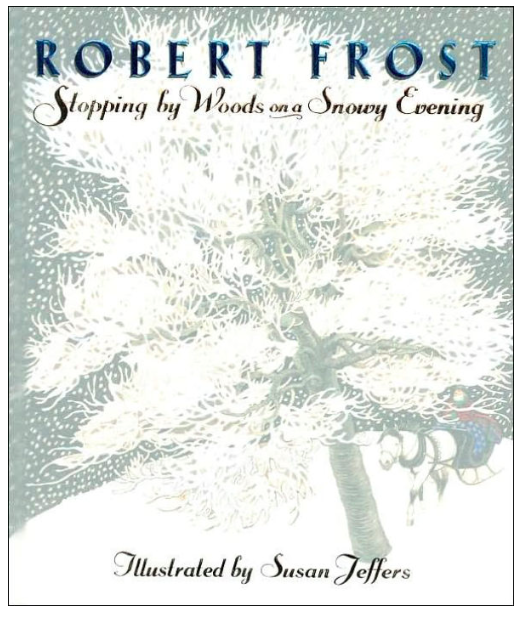 I told the children how one night during the holiday, my house was so quiet. I was sitting in front of the fire and it was dark outside with big snowflakes fluttering silently down. I remembered this poem, and I remembered that I had written a little melody to go with the pome. I sang the song/poem to them, using the book again.
(This is where the audio file will go when it is working again!)
I then taught them the first phrase ("Whose woods these are I think I know"), then the second ("His house is in the village, though"). Then we added them together. Next we learned the third and fourth phrases and added them onto the first two. That's as far as we went. I used some impromptu actions, such as pointing to my head for the "think I know" part, showing a roof with my hands for the "house" part, and pointing out the window towards the homes in the neigbhorhood for "village, though".)
Mrs. S. got the bells out and put them at each child's desk. She dismissed the children to their desks, row by row, and I told them to practice an ascending scale ("Beginning on Daddy Do and going up to Baby Do.") When everyone was there together, we started.
I showed the ascending scale, which we played. Playing in unison is the challenge of the year! Then we played by skips up and down the scale. I had the children perform by table. We did this for sometime until it was the end. We tried first singing the Solfa and then playing the Solfa of the first phrase of "Whose Woods These Are."
We didn't listen to another song about this poem or snow, but these could have been a good resource:

The beginning of "Winter" by Vivaldi:
Here's an interesting video showing snow falling with New Age music in the background:
Here is Tchaicovsky's "Winter Dreams" that could be a peaceful time for closing eyes and imaging snow fallings…for a minute…