Beat and rhythm are different. It helps to teach beat first and then teach rhythm, since it is in the contrast that you can understand rhythm better.
Beat is the steady tempo, like your heart beat. We also call it the "pulse." (Tempo just describes how fast or how slow a beat is going per minute. 60 bpm means 60 beats per minute. That is a very slow tempo!) We count the number of time our hearts beats in a minute and call that our pulse, just like in music.
Rhythm is how the notes go faster or slower in the song depending on their note value. (Note value means how short or long a note is.) Think of how our words come out when we talk: some words are short and some are long.  In a song, you might play 12 notes when there are 4 beats in a measure. Or you might play 4 notes to 4 beats. Rhythm all depends on the note value: if the note is long or short, such as whole notes (worth 4 beats in a 4/4 time signature), half notes (worth 2 beats in a 4/4 time signature), quarter notes (worth 1 beat in a 4/4 time signature), and eighth notes (worth a 1/2 beat in a 4/4 time signature).
Think of the Happy Birthday song. Clap the beat (1-2-3-4) slowly and then begin singing the song while clapping. Keep your clapping steady, at the same speed, while you sing. Note: You start singing "Happy" on the fourth beat. There are 2 notes for that beat. You sing "You" on the fourth and first beat in the next measures. "You" lasts 2 beats. You have one note for 2 beats. That note is a lot longer than the "Happy" notes.
Or think of "Mary Had a Little Lamb." "Mary" takes 2 notes and 2 beats to sing, with one note per beat, and "lamb" takes 1 note over 2 beats to sing. Clap it and sing it at the same time, and you'll see how that works!
Can you see how rhythm and beat are different?
You can teach whole, half, quarter and eighth notes using an apple as a visual aid, with relative pieces of cut up apple.
You can also use larger and smaller dots to show longer or shorter note values, such as in the sheet music for Mary Had a Little Lamb or Hot Cross Buns.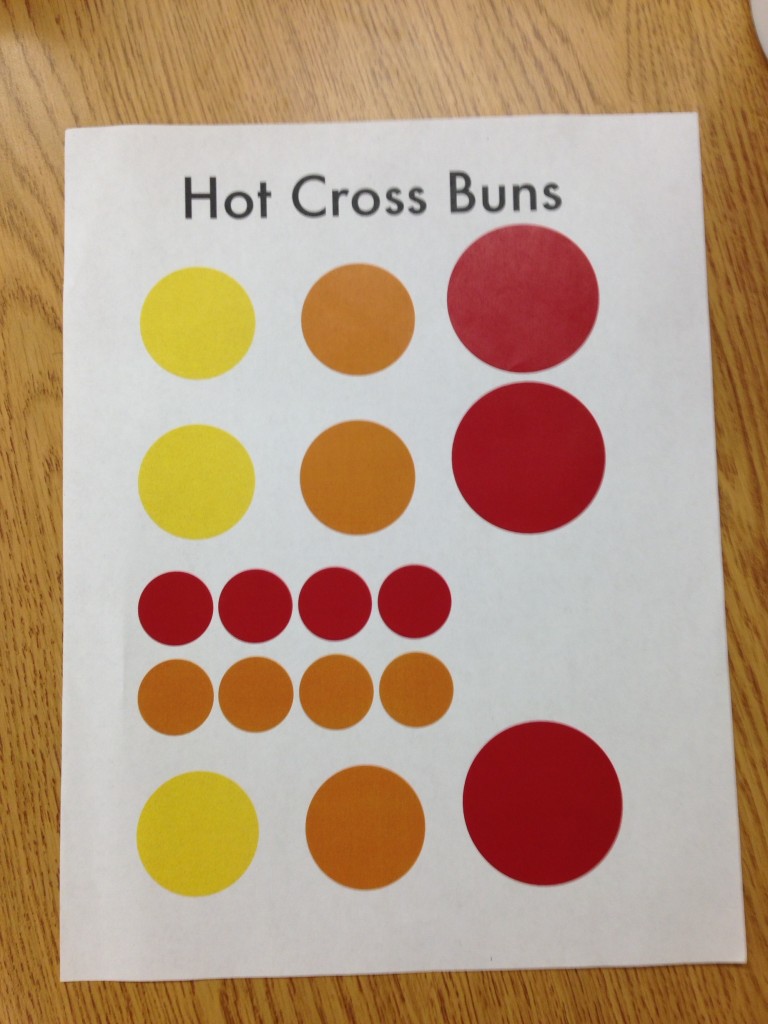 Here are links to ideas for teaching beat and rhythm (metronome and note values of 1, 2, and 4 beats):
DMK 1/16: Dynamics, tempo, rhythm (using Stopping by Woods; book in resource box)